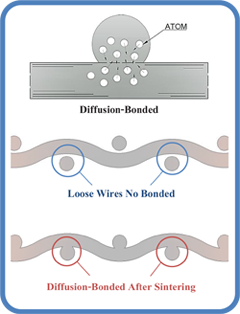 It is a porous metal panel which consists of multi-layer meshes / meshes + punching (perforated) plate and is sintered (diffusion-bonded) into one panel. It usually consists of protection mesh, filter mesh and support mesh and its combination is depending on customers needs or requirements.

Why is Sintered Filter needed ?
Sintered Mesh Filter uses several layers of metal mesh sintered together to form a porous metal filter. The fine inner mesh provides an accurate filtration within a protective layer. Different combinations can be used depending on the application of the filter. A plate mesh sintered filter is typically used for surface filtration, with the solid impurities trapped on the surface of the control layer. This allows the sintered metal mesh to have a high filtration precision while allowing easy backwashing.
– High temperature resistance / Cold temperature resistance
– Uniformly aperture as filter media / porous metal
Woven wire mesh / Wires, Metal powder, Metal plate, Perforated plate, Etched plate, Welded mesh, Expand metal,  Metal Fibers, Non-woven fabric, Knit mesh
Austenitic stainless steels (SUS 304 / SUS316 / SUS316L etc.)
Duplex stainless steels, Ferritic Stainless steels (SUS430 etc.)
Nickle / Nickle Alloys (Ni200 / 201, Hastelloy, Inconel etc.)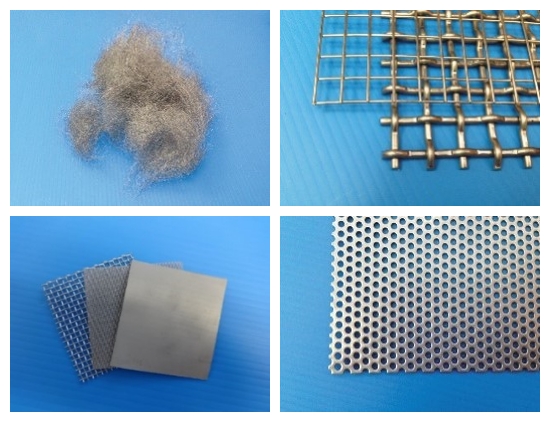 Compare Sintered wire mesh filters with normal filters
| Sintered wire mesh filters | Normal filters |
| --- | --- |
| Sintered wire mesh (2~5 layers wire mesh + perforated metal) | Wire mesh + perforated metal fixed by spot welding |
| There are less possibility of contamination because sintered wire mesh filters are not easy to broken. | They may not be able to catch contamination because the wire mesh are broken by pressure easily. |
| Longer life. No damage of wire mesh because all wire meshes + perforated metal are bonded by sintering. Welding by TIG / Plasma very strong | Shorter life. No sintered, Welding by Spot welding very weak |
| Easy to clean. Sintered wire mesh filters easy to clean. No damage by high pressure jet cleaning, brushing | Broken by cleaning. Normal filters to be broken by high pressure jet cleaning, brushing. |
| Uniformly aperture size, Uniformly filtration. Wires to be not moved and not loosed. | No uniformly aperture size, No uniformly filtration. Wires easy to be moved and loosed |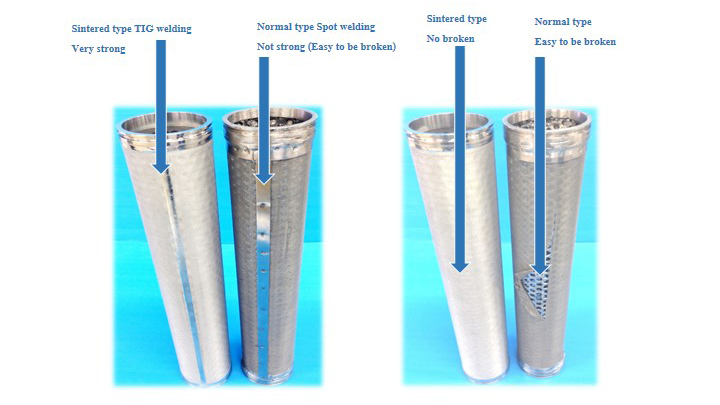 Saha Group Industrial Park, 99/8 M.5, Pasak, Muang, Lamphun 51000
Tel: +66 (0) 53 090 088
Fax: +66 (0) 53 090 090